Water Softener Salt
Not all softener salt is created equal. Our softeners aren't super fussy--meaning that pretty much any salt designed for a softener is okay to use. But keep in mind the quality of the salt can effect the quality of the water.
There are two important rules about salt and your water softener:
Don't let it run out of salt
Dont overfill it
If you let it run out, it can turn off. If your water softener runs out of salt, click here and follow the instructions.
Only put the amount of salt in the softener that you will use in 3-4 weeks. If you overfill the softener and don't use the salt fast enough, it can bridge (harden), or mush (gets pasty without a clear seperation between salt and water). If either of these happen the softener will not work properly and your water will get hard.
Pro's Pick® & Diamond Crystal Salt®
All our salt is high quality & NSF certified. Which you choose will depend on your specefic situation.
Dura-Cube®
Helps Soap Clean Better
Helps Extend Appliance Life
Ultra High Purity
Compacted for Extra Hardness
Reduced Risk of Bridging/Mushing
Recomended for All Systems
Professional Grade
Availailable in 40# or 50#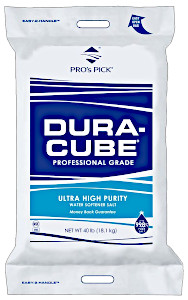 Red-Out Dura-Cube®
Helps Prevents Staining in Home
Reduces Iron Deposits
Helps Soap Clean Better
Helps Extend Appliance Life
Ultra High Purity
Helps Keep Softener Clean
Recomended for All Systems
Professional Grade
Availailable in 40# or 50#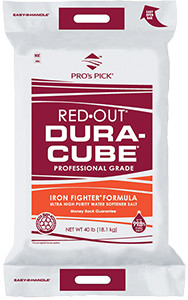 Solar Naturals®
Helps Soap Clean Better
Helps Extend Appliance Life
Made Naturally with Wind, Sun & Time
Additive Free
More Resistent to Bridging/Mushing
Availailable in 40# or 50#